Touching Your World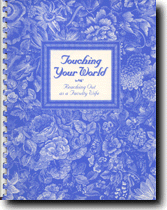 Reaching Out to
the University Community
As a member of the university community, you have the opportunity to utilize your unique position to influence the university for Christ. Touching Your World includes a variety of ideas to encourage and equip you to reach out and touch lives in the university community. Think of this manual as a smorgasbord; you simply choose one or two ideas that sound fun and challenging to you. It is not intended to overwhelm you. It would take you more than a lifetime to attempt everything covered in the following pages. The intent is to equip you to be more effective as you sense God calling you to step out in faith.
Contents
As a wife in the university setting, you have the opportunity to utilize your unique position to influence the university for Christ.
The Lord desires to develop a love relationship with you. Here are four simple guidelines to "choosing the good part" as you begin your day.

While prayer is a blessing to us personally, it is also a strategic way for us to be involved in ministry.

Hospitality is not what we have; it is who we are. The Christian home is a wonderful environment from which to share the message of Christ.

God desires for you to use your unique gifts and stages of life to help move people closer to Him. Outreach is simply actively putting feet to your faith in a way that will work for you.
You can have an impact throughout the world without leaving the United States as you reach out to international students and their families.
Touching lives together is reaching out as a couple to share the gospel and to build disciples in a multitude of ways. Do what you enjoy doing and make a point of inviting others to join in that activity.
Do you sense that God is calling you to have an impact on the university, but you do not see how your contributions could ever be important in the overall scheme of things? No one else in the world can fill the role that God has uniquely prepared for you in the university setting.
Appendix
This activity meets a variety of needs, is easy to carry out, and produces lasting results. The purposes of the social is to meet fellow Christian faculty, staff, and their spouses.
Imagine having the opportunity to invite Christian and non-Christian faculty and staff couples over for an evening of fun. Included are detailed ideas for "theme parties" that faculty couples have done.
What is a Christmas Gathering? It is a gathering of friends in an individual's home that features holiday food, sharing of Christmas traditions, a brief non-threatening talk on the meaning of Christmas, and an opportunity to receive Jesus Christ.
Being a mentor provides an opportunity for mature faculty wives to use the skills and knowledge they have gained through life experiences to encourage younger faculty wives.
Movies can be used as effective discussion starters or as an opportunity to challenge the thinking of colleagues and students alike.
The series is a vehicle through which Christian faculty couples can invite others to join in a discussion about significant issues in a casual atmosphere.
The forum can be used as a follow-up to a campus-wide lecture that presents the Christian world view.
Here is practical help for relating to international students and sharing Christ across cultures.
Additional Resources
Many have written on the subject of hospitality. The following is shared from the viewpoint of the way God has led one woman and her husband to reach out to others.
Your unique experience in coming to Christ can be an effective tool in communicating th gospel to others. A carefully prepared testimony enables you to speak confidently, knowing that your words are well-chosen, biblically accurate, and appropriate to the situation.
This one hour video focuses on the importance of Christian principles to the founding fathers.
Training in how to share your faith will allow you to take fuller advantage of the unique position in which God has placed you. Having the right attitude, understanding the role of prayer, and considering the use of an evangelistic tool set the stage for successful witnessing.
---
© Copyright 1996, Campus Crusade for Christ.
Copies of Touching Your World are available for $15.00 for U.S. addresses and $25.00 for international destinations. Include the appropriate payment and request Touching Your World from
Lewis & Stanley Publishers
P.O. Box 129
Addison, TX   75001    USA
Phone: 972-713-7130