"Come Over and Help Us!"
David M. Wiley

---

David M. Wiley is Executive Editor of The Real Issue




---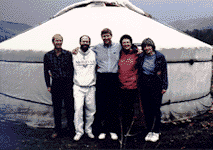 Historically, major mission movements emerge when committed Christians respond to a call like the one Paul heard from the Macedonians during his second missionary journey (Acts 16:9).
Christian professors are building a new movement as they respond to a modern version of that call. The call comes from institutions around the world that urge them to bring their Christian faith and academic expertise to "come over and help us."
As opportunities increase for Christian professors to minister in various parts of the world, Christian Leadership Ministries is accelerating its international emphasis.
CLM's assignment of two people to direct international opportunities for Christian professors underscores the intention to make overseas outreach integral to CLM's strategy. Rich McGee, a CLM staff member since 1982, was appointed Director of International Expansion in 1991, and former Minneapolis businessman Sieg Aurich has recently been appointed Associate Director.
McGee said he accepted the international responsibilities to "help mobilize Christian professors from around the country for unique cross- cultural ministry opportunities."
He explained that during a CLM trip, Christian professors can bring a higher level of credibility to the local ministries which sponsor their campus lectures. He added that professors can open doors to minister at the highest levels of leadership in a university, city, or even in an entire nation.
"American professors are highly respected around the world," McGee continued, "and Christian professors can open doors for the gospel that many missionaries and other ministry workers cannot."
More Trips Each Year
Until recently, CLM conducted only a few international trips during an academic year. Now, said Aurich, the scope and frequency of the international activities are going to accelerate significantly, beginning in some familiar territory.
Recently, Campus Crusade for Christ installed teams of its full-time staff members on 11 priority campuses within the Commonwealth of Independent States. They intend to place staff at a total of 25 universities over the next two or three years. Campus Crusade has invited CLM to bring faculty teams to all of these universities.
In March, faculty teams will travel to 10 of these locations, with a total of 35 professors and 12 CLM staff participating on the teams.
In addition, McGee and Aurich are working with team leaders who are planning spring trips to Czechoslovakia, Bulgaria, and Thailand. In May and June, return trips to Mongolia and Mexico, and a first-time trip to Morocco are scheduled.
Fall trips will take teams to campuses in Kirghizistan, Hungary, and Poland. There is also the possibility of taking additional teams in the fall to some universities in the former Soviet Union.
Trips Showed Immediate Potential
Beginning with the first CLM trips to campuses in Eastern and Southern Africa during May of 1984, it has been obvious that Christian professors are welcome in international settings.
As subsequent teams traveled to locations in Thailand and Singapore, the high level of interest continued to catch the attention of everyone involved. But the true significance of the international openness did not become apparent until the fall of the Soviet Union.
The dismantling of the Berlin Wall was televised around the world in November, 1989, giving a vivid picture of the collapse of the world view responsible for its construction. Unknown at the time, another sign of the inevitability of that collapse had come several months earlier- during a CLM National Faculty Leadership Conference at Colorado State University.
Before the Wall Fell
At the conference, a top-level official of the Soviet Academy of Sciences, the guest of a Campus Crusade director, stood before the assembled professors and issued an unprecedented invitation.
He was there, he said, to invite American Christian professors to the Soviet Union to lecture in their area of academic expertise and on how it related to their faith in God.
"Marxism is no longer credible," he explained. "And this has left a great philosophical vacuum, which we feel should be filled with Christianity."
The first team to respond to that historic request arrived in Moscow in September of 1989. That was nearly two months before events in Berlin enabled the rest of the world to see the significance of certain actions in the Soviet Union and its Eastern European satellites.
By the end of the 1989-1990 academic year, CLM had sent five teams to various locations within the Soviet Union, and a sixth team traveled to Hungary and Romania. Through those six trips 31 professors, spouses, and CLM staff spoke to an estimated audience of nearly 10,000 educators and students.
More than 2,600 Bibles were distributed, along with more than 4,300 Four Spiritual Laws booklets and other types of evangelism and discipleship material. A highlight of the trip was a two-hour radio interview with team members in St. Petersburg broadcasted to a potential listening audience of five to six million people.
Through CLM trips, McGee emphasized, Christian professors can have a profound influence for the gospel. But these trips also have a profound influence on the professors. They return to their campuses with a stronger commitment to ministry involvement at their local level.
An example is the experience of Dr. Walter "Dub" Lane, professor of economics at the University of New Orleans. After traveling with CLM to India and Thailand, he saw how the trip affected his view of ministering at UNO.
"It is interesting to see how my perspective changed," he explained. "The biggest thing is that I got fired up for the things I need to be doing back here."
Lane recalled the incident that made this realization so clear. At a university in Bangkok, he had a lengthy conversation with the dean of architecture. Although a devout Buddhist, the educator was interested enough in Lane's discussion of the gospel that he rearranged his schedule for that day to allow for more time.
"If I can do this in Thailand," Lane said of his experiences there, "I can do this in the United States."
McGee said he is pleased to see professors return from their ministry trips "more committed to the Great Commission, more active in sharing Christ with students and colleagues, and more interested in continuing cross-cultural outreach."
Therefore, McGee encourages those who continue to hear the call of those in other lands to "come over and help us," to contact him at the CLM national offices and discover the international opportunities available.