Merging the Sacred and the Secular
Loving Monday
(InterVarsity Press, 1998)
By John D. Beckett
Review by Cindy Crosby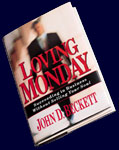 TGIM – Thank Goodness It's Monday – might never make it as a catch phrase in the everyday American work culture. But if more Americans would learn to meld their work and their beliefs, says author John Beckett, they would find more meaning and satisfaction in their jobs and they no longer would dread the start of each new week.
In Loving Monday: Succeeding in Business Without Selling Your Soul, Beckett introduces his thesis by sharing his own story -- how he came to love Mondays as a successful Ohio manufacturing executive. After working in the fast-paced, high-tech aerospace industry, Beckett left to join his father's business, a privately-held company based on the unglamorous manufacturing of oil burners for heaters. When his father suddenly died after a heart attack, Beckett found himself cast in the role of leader of the R.W. Beckett Corporation. Several months later, the company warehouse was engulfed in flames. These difficult experiences and others, Beckett said, caused him to achieve a dependence on God that helped him see he could not become overly secure with temporary things.
As he developed his Biblical worldview, Beckett became convinced that it needed to impact his business as well as his personal life. Because his business is "secular" does not negate his job from being a calling, he writes, and central to Loving Monday is Beckett's probing of the legacy of the Greek, dualistic worldview that asserts a separation between the sacred and the secular. After extensive study, Beckett came to believe that we need to recover the unified, Biblical worldview that all things are good when in harmony with God's design. Thus, he decided not to "check his faith at the door" on Mondays, but rather to interweave his faith throughout his work.
Beckett uses the unified, Biblical worldview as a backdrop for the third, application-oriented section of the book. He writes that the Bible became his "corporate compass," and details how he integrates his faith and Biblical principles into the running of the Beckett Corporation. This includes a respect for the worth of individuals, a desire to see them grow, and a commitment -- backed with financial clout -- to help them and their families achieve their full potential. The company's astounding growth coupled with its model working environment has even caught the attention of Peter Jennings and ABC News, which profiled the company on its television broadcast.
When we cultivate a close relationship with God, and with his Word, Beckett believes we will find it possible to transform our work life, and by extension, the work environment of those we work with and work for. And when this relationship is in place, he writes: "I find each day is important and filled with opportunity, not just to 'survive the rat race,' but to actually have a part, however small, in consciously knitting what I do into God's larger purposes."
Cindy Crosby is a writer in Glen Ellyn, Ill.
Reprinted By Permission of LIFE@WORK CO. © Life@Work Co., 1998 (www.lifeatwork.com).