FAITH & FREEDOM Report
Volume 2, Number 1, March 1999
Virginia Governor Gilmore Proclaims Christian Heritage Week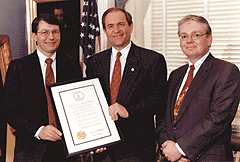 Governor James Gilmore (center) presents the Christian Heritage Week Proclamation to Christian Defense Fund President Robert Conover (right) and CDF Faith and Freedom Newsletter Editor Walter Longyear (left).

At the request of the Christian Defense Fund, Virginia Governor James S. Gilmore III signed a proclamation naming November 22-28, 1998 as America's Christian Heritage Week.

Virginia joined with 11 other states in making the proclamation. It has been celebrated during Thanksgiving Week in towns, cities and states across America since 1992.