Faith & Freedom
Benjamin Hart

---

---
The Christian Roots of American Liberty
"Where the Spirit of the Lord is, there is liberty."
(2 Corinthians 3:17)
A publication of the Christian Defense Fund
---
CONTENTS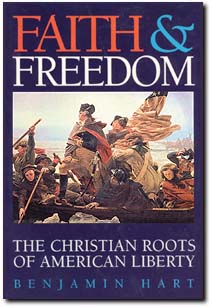 Endorsements & Acknowledgements
2. Statecraft is Not Soulcraft
4. John Wycliffe, Father of American Dissent
6. John Winthrop's Shining City
7. Thomas Hooker Tries Democracy
9. The Protestant Spirit of Capitalism
10. God and the Tobacco Society
11. Brave Oliver's "Cruel Necessity"
13. A Holy Experiment in Laissez-Faire
14. Two Preachers and The Great Awakening
15. The Making of an American Revolutionary
16. The making of an American Ideology
17. "Give Me Liberty, or Give Me Death!"
18. When in the Course of Human Events
19. Bloody Footprints in the Snow
20. Different Gods, Different Revolutions
23. Where the Lord is a Stranger, So is Liberty
---
© Copyright 1988, Benjamin Hart
Faith and Freedom. The Christian Roots of American Liberty
Copyright © 1997, Christian Defense Fund
All rights reserved.
Scripture quotations are from the New American Standard Bible, © The Lockman Foundation 1960, 1962, 1963, 1968, 1971, 1972, 1973, 1975. Used by permission.
A portion of Washington Crossing the Delaware by Emanuel Leutze used by permission, courtesy of the N.Y. Graphic Society.
Library of Congress Cataloging-in-Publication Data
Hart, Benjamin.
Faith and Freedom 
Bibliography: p.
Includes index.
1. United States-Church history-Colonial period, ca. 1600-1775.2. Puritans-United States-History. 8. United States-History-Revolution, 1775-1783-Religious aspects. 4. liberty-Religious aspects-Christianity-History of doctrines-l8th century. 5. Freedom (Theology)-History of doctrines - 18th century.
I. Title.
BR520.H334 1988 277.3'07 88-8258
ISBN 0-929510-00-3 Cloth
ISBN 0-929510-04-6 Paper
ISBN 0-89840-239-5 Here's Life Publishers