Comparing World Religions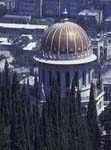 Popular media outlets currently proclaim Buddhism as an emerging spiritual trend in America. Many celebrities are even revealed as followers of major Buddhist teachers. The cyclical nature of such popular trends raises the question of whether all major religions are essentially the same and lead to the same place. Does it really matter which of the world's religions one chooses to believe in? We have put together a special focus on the issue of comparative religions.







World Religions Index
If you've ever wondered what other religions believe about God, Jesus Christ, salvation, the afterlife and more, you'll want to visit the World Religions Index. This new website has data on all the major world religions, as well as interesting personal testimonies and articles.



copyright (c) 1995-1997 Leadership U.
All rights reserved.
Updated:



Leadership U. is a virtual university with a distinct focus: Jesus Christ. Enjoy our ResourceBASE of well-written, well-researched articles, essays and reviews.

Contest
"Are we humans born good, bad, or neutral?" Answer this question and you may win a scholarship.
Past Features
The complete list of our past Special Focus features, along with our past featured web sites.
Submitting Articles to LU
Find out how you can submit scholarly or popular articles to LU's ResourceBASE.
Conferences and Events
Find out what conferences and events are taking place around the country by checking out our Happenings department.


You can add your name to our announcements list. You will receive regular email announcements of new resources available through Leadership U.