Popcorn Pictures
Seen any good movies lately? Have there been any good movies lately? Good or bad, the Oscars are to be awarded soon. And hoopla aside, Academy Award season presents us with the opportunity to consider the place of movies in our culture. See our special focus on movies.



Harmless Pleasures?
Congress recently considered a bill to protect children from Internet pornography. First Amendment questions aside, most agree that kids should not be exposed to "adult material." But is "adult entertainment" harmful only to children? Or is pornography simply a harmful indulgence at any age? Please see our special focus on the matter of pornography.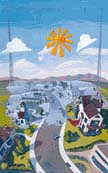 Revealing Christ in Culture
Just about everywhere you turn these days, people are hungering for spirituality, having a renewed respect for the "divine" as a key part of life. If you find yourself part of a growing band of servants committed to their church but wanting to move her "out of the ghetto" and into meaningful engagement with secular culture, we have good news. Mars Hill Forum is hosting a weekend conference in New York City, May 20-22, 1999.


Full-Text Search
Search our 6,039 resources for the text you enter.
Keyword Search
Search on keyword(s) supplied by authors.
Subject Search
Search within a specific subject.
What's New
See what's been added to LU in the last...