Education in America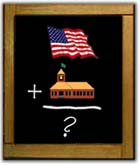 Are schools improving? Is education reform effective? How do you make sense of all the changes in education, both new and proposed? We have put together a special focus on this issue.





International School of Theology


The mission of the International School of Theology (ISOT) is to educate and train men and women to become servant-leaders who will develop others to love Christ, lead the Church and pursue the fulfillment of the Great Commission. This is accomplished through an integrated process of graduate academic instruction, supervised ministry experience, and personal/spiritual development.






copyright (c) 1995-1997 Leadership U.
All rights reserved.
Updated: 18 August 1997



Leadership U. is a virtual university with a distinct focus: Jesus Christ. Enjoy our ResourceBASE of well-written, well-researched articles, essays and reviews.

Contest
"Are we humans born good, bad, or neutral?" Answer this question and you may win a scholarship.
Past Features
The complete list of our past Special Focus features, along with our past featured web sites.
Submitting Articles to LU
Find out how you can submit scholarly or popular articles to LU's ResourceBASE.
Conferences and Events
Find out what conferences and events are taking place around the country by checking out our Happenings department.


You can add your name to our announcements list. You will receive regular email announcements of new resources available through Leadership U.