The Valley of the Shadow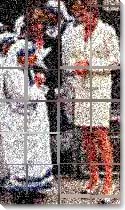 The death of Mother Teresa and the untimely passing of Princess Diana have caused grief in the lives of millions the world over. Such events cause not only trauma but spark reflection on the place of death, the grieving process and life hereafter. We have put together a special focus on these issues.




None for the Road
The passing of Princess Diana has also brought the subject of alcohol to the forefront. Every Student's Choice has developed a web-site on this subject.






copyright (c) 1995-1997 Leadership U.
All rights reserved.
Updated:



Leadership U. is a virtual university with a distinct focus: Jesus Christ. Enjoy our ResourceBASE of well-written, well-researched articles, essays and reviews.

Contest
"Are we humans born good, bad, or neutral?" Answer this question and you may win a scholarship.
Past Features
The complete list of our past Special Focus features, along with our past featured web sites.
Submitting Articles to LU
Find out how you can submit scholarly or popular articles to LU's ResourceBASE.
Conferences and Events
Find out what conferences and events are taking place around the country by checking out our Happenings department.


You can add your name to our announcements list. You will receive regular email announcements of new resources available through Leadership U.