Classics from LU Archives
Scientists and Their Gods
Dr. Henry F. 'Fritz' Schaefer, renowned computational chemist, explores influential scientists' belief in God.

Culture/Society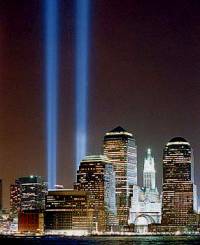 911 Anniversary
Congress approved a resolution granting President Bush wide latitude to make war on Iraq. Among the topics of contention during debate, such as "pre-emptive war," U.N. involvement and Congressional war powers, it became clear just how much underlying worldviews dicate policy positions. See our Special Focus for viewpoints on foreign policy and other issues.

Ethics/Character


Funny Business
Enron. Global Crossing. Tyco. Worldcom -- names tied to illegitimate accounting schemes spur us to ask, "What is right and wrong? Who says? Based on what?" Questions of ethics -- particularly business ethics -- never felt more relevant. See our Special Focus for an in-depth view.

Featured Site


Doug Yeo
Doug Yeo, when not performing for the Boston Symphony Orchestra or playing for a broadway musical, teaches, plays with his family's brass quartet and writes. Here, you will find his writings, on everything from amateur and professional muscianship to viewing life as a rewarding spiritual pursuit.


---
Start-Up Page
Do you like Leadership University? Would you like to return here regularly? Make LU your browser's start-up page.
Viewing LU
Leadership University looks best with Microsoft Internet Explorer 4.0 or Netscape 3.0 or higher.
copyright © 1995-2002 Leadership U. All rights reserved.
This site is part of the Telling the Truth Project.
Updated:

Full-Text Search
(advanced)
Search our 8,205 resources for the text you enter.
Author Search
(advanced)
Search for articles by author.
All-CCC Search
(advanced)
Search all of Campus Crusade for Christ.