Memories of Dr. Erick Nilson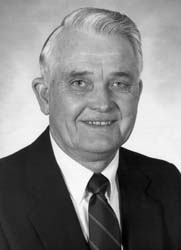 Dr. Erick Nilson was a member of the Department of Agronomy faculty at Kansas State University in Manhattan, Kansas for more than 24 years before his retirement in 1989. He served the department as an Extension Specialist, Herbicides (Pesticidal Safety) with time-out to serve as Acting Pesticide Coordinator in 1982-84.
Erick was raised on a farm near Aurora, Nebraska, graduating from Aurora High School in 1944. Following high school graduation, he farmed in partnership with his father with an interruption to serve in the U.S. Navy near the end of World War II. He received his B.S. from the University of Nebraska in 1950 and worked as a SCS Soil Scientist following graduation, located first at Wakefield, Nebraska (1951-52) and then at Manhattan, Kansas (1952-53). The year 1955 was a very eventful year for Erick, with his marriage to Fern Loree Miller and the receipt of his M. S. from the University of Nebraska. The newlyweds moved to the state of Washington where Erick served as the County Extension Agent located at Ellensburg, Washington (1955-57). Later Erick received his Ph.D. in 1963 at Kansas State University. Following graduation, Dr. Nilson accepted a teaching position at Eastern New Mexico State University, Portales. In 1965 he accepted the newly created position of Extension Specialist, Herbicides (Pesticidal Safety) at Kansas State.
During his tenure at Kansas State University the Nilsons took on faculty sponsorship of Campus Crusade for Christ, a relatively new ministry to the campus, opening their home to the students for the cause of Christ on a regular basis. In the middle 1980s our ministry approached Erick to consider beginning a faculty-staff ministry at Kansas State. Erick prayerfully considered the opportunity and agreed to take leadership. Despite a relatively large number of Christian faculty and staff at the university, the idea of beginning a Christian faculty-staff ministry was not greeted warmly by all. In the early days there was actually quite a bit of opposition on all fronts. Despite the discouragement Erick decided to never give up—when nearly everybody else thought it was a bad idea to start the ministry, Erick concluded that God plus one was a majority. Indeed, he did begin the faculty-staff ministry there and served as its first president the year before his retirement. In recognition of Erick's faith and his pioneering spirit, we dedicate this annual award and grant. It is our aim to recognize the men and women of God that He is raising up to forward His cause at the university.